Ascension Living Nazarethville place
Living choices and amenities
Choose from an array of accommodations, services and amenities to suit your needs, wants and lifestyle in a safe, secure and beautiful setting at Ascension Living Nazarethville Place.
Skilled Nursing
Rest assured that when you or your loved one needs more advanced nursing care, our compassionate team is available 24/7 to provide respectful, person-centered care.

The compassionate care team at Ascension Living Nazarethville Place is ready to provide your loved one with support ranging from complex wound care to comprehensive therapies, including occupational, physical and speech therapy.

Trust that we will help manage their health - even complex conditions - by working with your loved one, you and the care team to create a comprehensive yet flexible plan for care. The personalized care plan emphasizes quality of life, dignity and comfort goals. Your loved one will be in control of their days, choosing which services they want and when.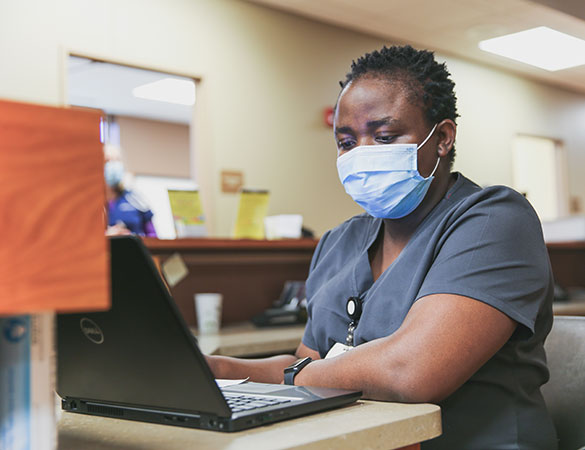 Services
Nursing staff on duty 24/7
In-house therapy
Telephone, cable TV and wireless Internet included
Laundry and housekeeping
Amenities
Dining venues serving three delicious, nutritious meals daily, plus snacks
Life enrichment activities
Barbershop/salon
Rehabilitation
Whether for short-term, long-term or ongoing rehabilitation needs, Ascension Living Nazarethville Place professionals work with you and your healthcare team to define a plan and help you reach your recovery goals.

If you need help to regain strength, flexibility and mobility, other skills, and the independence you enjoyed before a recent illness or surgery, our team is here to help. Our personalized care philosophy emphasizes each person's quality of life, dignity and comfort. In this responsive model, you are in control of your days, choosing which services you want and when.

We want you to enjoy life while you're residing here. You'll enjoy three delicious meals a day, cooked from scratch. As part of Ascension Living, we also want to make sure your spiritual needs are met. That's why we offer a full schedule of religious services in our beautiful chapel and on-site chaplains.

And, you and your loved ones will enjoy a comfortable, homelike setting,in a private room with ample common spaces to visit with family and catch up with friends.

We are committed to helping keep you safe while giving you access to services and amenities that allow you to live the lifestyle you want. We have implemented safeguards to help minimize the exposure risks related to COVID-19 for our residents, visitors and staff.

At Ascension Living Nazarethville Place our goal is to help you reach your goal. During your stay, you will benefit from professional rehabilitation services and restorative care, in a calm, soothing setting where you can simply focus on healing.

In addition to physical, occupational and speech-language therapies, our therapy services address memory issues, vision issues, incontinence, brain injury, hand and upper extremity problems, and recovery after stroke.
Services
24-hour caring and attentive staff
Personalized physical therapy available
Individual care plans
Restorative health services
Wound care
Pain management
Hospice and comfort care
Medication administration
Help with bathing, dressing and grooming
Incontinence care and help with mobility
Spiritual care
Amenities
Private rooms
Housekeeping, laundry and linen services
Selective menu dining
42" flat screen wall mounted televisions in resident rooms; SeniorTV offers 65 stations that residents can choose from
Free WiFi
Plenty of activities and events
Full schedule of religious services held in a beautiful on-site chapel
Guest parking
All utilities paid
Telephones in resident rooms with personal phone numbers
ascension living Team
A team member is ready to answer your questions and provide further information on:
Living Choices services details
Amenities for your interests
Other considerations to make the right community and services decision for you