Ascension Living Via Christi Village
Living Choices and Amenities
Choose from an array of Living Choices, accommodations, services and amenities to suit your needs, wants and lifestyle in a safe, secure and beautiful setting at Ascension Living Via Christi Village Ponca City.
Independent Living
We understand you want to stay as active and engaged as possible. Choose from options that are right for you, whether it's dining, activities, a maintenance-free lifestyle, services, amenities, social connections, learning and volunteering opportunities or easy transportation to go places you want.

At Ascension Living Via Christi Village, we feature stand-alone villas that feel more like a neighborhood than a traditional retirement community. All of our villas feature two- or three-bedrooms and two bathrooms, walk-in closets and utility room. Each one comes with a fully equipped kitchen complete with a dishwasher, refrigerator with icemaker, stove and built-in microwave oven, living and dining room, attached garage and patio with garden area. We'll work with you to help you make your new home at Ascension Living Via Christi Village feel like YOUR home.

Every residence is maintenance free, inside and out. If you see anything that needs repair , you contact maintenance and they will respond quickly to take care of issue at no cost to you.

Feel safe while enjoying the services and amenities that allow you to live the lifestyle you want. We have implemented safeguards to help minimize the exposure risks related to COVID-19 for our residents, visitors and staff.

Services
Interior and exterior maintenance
Water, trash, gas and electricity
Security staff on duty 24/7
Scheduled transportation
Kitchen with full-size range and refrigerators
Scheduled housekeeping


Amenities
Restaurant-style and casual dining with flexible dining options and hours
Priority access to the Health Care Center or assisted living, based on availability
Access to Village activities and events and community living areas
Well-stocked library
Variety of social opportunities
Beauty/barbershop
Assisted Living
When you or your loved one finds daily life isn't as easy as it once was, the Ascension Living Via Christi Village Ponca City Assisted Living team is ready to provide support when needed. Find comfort knowing that your loved one will benefit from high-quality care and personalized service in a safe environment at Ascension Living Via Christi Village.

Through personalized programming, your loved one will benefit from an ideal blend of service and care that's right for them, while respecting and supporting their independence. Whether your loved one needs support to manage medications, getting dressed, and preparing meals or could use social engagement or transportation resources, we offer all of this, and more.

Rest comfortably knowing that our compassionate team will support your loved ones independence. We'll help them stay active and engaged by getting them involved in the community, they'll learn new things in educational classes, and they will be able to spend time with friends.

All resident care needs are included in an easy-to-understand pricing model, which our team will walk through with you to answer your questions and listen to your concerns. This approach provides peace of mind for everyone, including families, supports changes as needs change, and lets residents comfortably age in place longer.

You may also choose a Premium Concierge Program, with additional services and amenities outside of the all-inclusive program. A la carte pricing or all-inclusive monthly package options are available.

Services
All 3 meals daily in Dining Room
Bathing Assistance- up to 3x weekly
Medication Management
Care Coordination
Personal Laundry – 1x weekly
Light Housekeeping- 1x weekly
Change Bed Linens 1x weekly
24- hour caregivers on site
Nurse available 24 hours each day (by phone or onsite) ***
Personal Care and Support Provided*
Wellness checks 1x monthly
Basic/Routine Supplies
Access to Lab/Mobile x-ray Services**
Amenities
In- Room Dining Service up to 3x month
Local transportation up to 4x monthly ***
Happy Hour 1x weekly
Group Outings and Events
Life Enrichment Program
Wellness Program
Utilities, basic cable, and Wi-fi included ***
Emergency Response System (Pendant Program)
Pastoral/Spiritual Care
Routine Interior/Exterior Maintenance
Snack and Beverage Stations
Registered Dietitian Consultation available


*Based on the community's clinical capabilities and state requirements
**Billed to you by provider and based on medical necessity
***Based on community availability
Premium Concierge Program:
Includes additional services and amenities outside of the all- inclusive program – you want more, we can provide more. Al a carte' pricing or all-inclusive monthly package options available.
Memory Support
More people than ever before are experiencing memory loss. And for many families, that means another family member, or several, are caring for their loved one. That's why Ascension Living developed this program to help support all of you.
Memory support is more than care, it's a partnership. We will look to you to share stories about your loved one so we can develop a personalized support program that's right for them. Within our Memory Support neighborhoods, our residents may experience the familiar smells of favorite dishes and fresh laundry to help make them feel more comfortable. We also make an effort to take everything into consideration to honor each resident's unique needs — from color choices, to noise control, lighting, table designs and room layouts.
Associates at Ascension Living Via Christi Village Ponca City, who engage with memory loss residents and their families participate in an advanced training that helps us deliver the right care and support for your loved one, including their unique physical, emotional, social and sensory needs. To learn more about our training programs visit
ascensionliving.org/memory
.
We encourage families to participate in our approach to their loved one's care. We also understand that memory loss affects the entire family. We're here with personalized support for all of you. We're available to answer your questions, talk through next steps and more.
Services and amenities
An enriching dining experience including menu choices, social contact and cues to help with the steps of eating
Memory support therapy teams to help residents reach their optimum level of function
Easy-to-use technology that allows residents to connect with each other over similar interests and visit with you over video calls
A digital profile with videos, games and more customized for each resident
Private rooms (by availability)
Barbershop/salon
Laundry and housekeeping
Emergency alert system 24/7
Skilled Nursing
Rest assured that when you or your loved one needs more advanced nursing care, our compassionate team is available 24/7 to provide respectful, person-centered care.

The compassionate care team at Ascension Living Via Christi Village Ponca City is ready to provide your loved one with support ranging from complex wound care to comprehensive therapies, including occupational, physical and speech therapy.

Trust that we will help manage their health - even complex conditions - by working with your loved one, you and the care team to create a comprehensive yet flexible plan for care. The personalized care plan emphasizes quality of life, dignity and comfort goals. Your loved one will be in control of their days, choosing which services they want and when.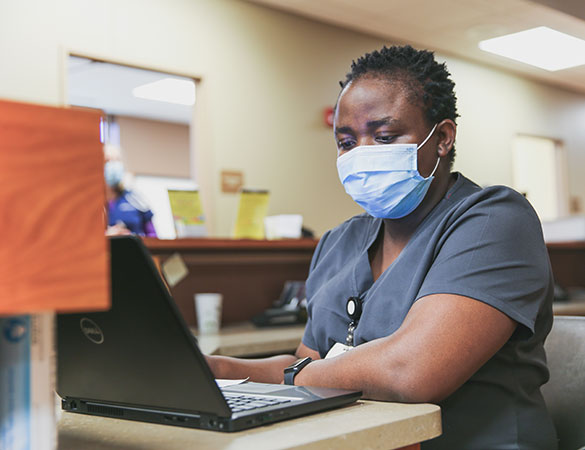 Services
24/7 licensed nursing staff
Social services
Daily housekeeping, laundry and linen service
Medication review
Interdenominational services
All utilities, including basic cable, paid
Scheduled transportation
Amenities
Three delicious, nutritious meals and snacks daily
Wellness-focused activities
Personalized care plans
Planned social activities and programs
Cable TV


Rehabilitation
Whether for short-term, long-term or ongoing rehabilitation needs, Ascension Living Via Christi Village Ponca City professionals work with you and your healthcare team to define a plan and help you reach your recovery goals.

If you need help to regain strength, flexibility and mobility, other skills, and the independence you enjoyed before a recent illness or surgery, our team is here to help. Our personalized care philosophy emphasizes each person's quality of life, dignity and comfort. In this responsive model, you are in control of your days, choosing which services you want and when.

And, you and your loved ones will enjoy a comfortable, homelike setting, with ample common spaces to visit with family and catch up with friends.

We are committed to helping keep you safe while giving you access to services and amenities that allow you to live the lifestyle you want. We have implemented safeguards to help minimize the exposure risks related to COVID-19 for our residents, visitors and staff.

At Ascension Living Via Christi Village Ponca Cityour goal is to help you reach your goal. During your stay, you will benefit from professional rehabilitation services and restorative care, in a calm, soothing setting where you can simply focus on healing.

In addition to physical, occupational and speech-language therapies, our therapy services address memory issues, vision issues, incontinence, brain injury, hand and upper extremity problems, and recovery after stroke.
Services
24/7 licensed nursing staff
Social services
Daily housekeeping, laundry and linen service
Medication review
Interdenominational services
All utilities, including basic cable, paid
Scheduled transportation
Amenities
Three delicious, nutritious meals and snacks daily
Wellness-focused activities
Personalized care plans
Planned social activities and programs
Cable TV


ascension living Team
A team member is ready to answer your questions and provide further information on:
Living Choices services details
Amenities for your interests
Living Spaces floor plans and designs
Other considerations to make the right community and services decision for you